We were born to organize!
Everyone on this earth has a specific life purpose and skills and talents to make this world a better place. A very wise and loving man named Jesus said, "Each one should use whatever gifts he has received to serve others, faithfully administering God's grace in its various forms." Here at Major Mom&reg we hire men and women that are passionate and skilled at decluttering and setting up systems in a wide variety of households.
The founder and CEO of Major Mom&reg, Angela Cody-Rouget walks her talk. She has 2 decades of training in order management. She served in the U.S. Air Force for 18 years (10 years active duty, 4 years in the reserves +4 years in AFROTC) and she embraces and thrives in orderly environments. Orderly does not mean rigid or inflexible! Orderly means that you have room in your brain to think about important things. Not only was she born to organize but after 18 years in the USAF the processes of order and organization are internalized and it is natural to live orderly. She wishes everyone knew how good it felt to have a peaceful and serene home.

Angela attained the rank of Major in the USAF and her husband, Frederic, nicknamed her Major Mom after their first child was born. Angela would return from a long weekend of reserve duty and Frederic would hand her baby Lily and say "Yeah, Major Mom is home!" Angela has been called Major Mom since December 2003.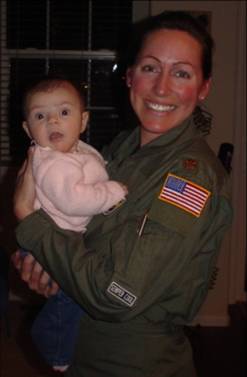 After her second child was born, it became more difficult and sad to leave her babies for long weekends and two weeks a year. It was also very inconvenient to pump breast milk and try to keep it cold until she got home. Most of the other soldiers didn't mind if she had to leave a meeting or quickly pump, but it started to bother Angela that she was torn between two loves: her family and the military. After much consideration and thought, Major Cody resigned her commission with an honorable discharge. (Picture below: Major Mom six months pregnant with her second child).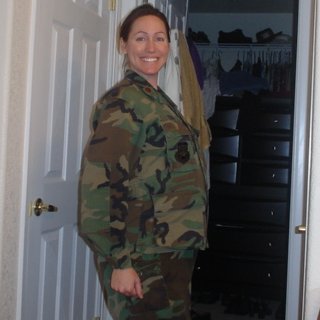 She has never regretted her decision to be a full-time Mom and one thing that she definitely learned was how hard it was to maintain an orderly home with a baby and a toddler. As she joined Mommy groups and play groups she witnessed how hectic a stay at home Mom's life is and how isolated one can feel. She started to grow a big place in her heart for Moms and their busy families. That was the inspiration of her idea to start an organizing company that helped busy families. God knows these Moms and Dads need some help! Many of us no longer live next to Grandma and Grandpa or aunts and uncles. Many of us are all alone and not sure who to call for help. Angela wants to make sure that everyone that lives in clutter and chaos knows who to call for help---MAJOR MOM.

Angela worked as a solo professional organizer for three years, yet her vision for Major Mom has always been on a grander scale. The Major Mom vision is to be the most recognized and respected organizing firm nationally and internationally. Major Mom aims to be of great service to busy families. The company also aspires to provide rewarding careers for men and women who are passionate about organizing and serving families. In 2009, Angela brought a partner to the Major Mom team—-Mandy Pinkston. In October 2009, the Major Mom Training Academy was opened. We have trained 28 apprentices via eight academy classes as of March 2013. We currently have 14 fabulous Liberators (Professional Organizers)helping us restore order to the world. [See the "Careers Tab" on this website for more information about joining the team.]

The Major Mom team is comprised of professional organizers who are highly skilled and well trained at de-cluttering and setting up customized, achievable and sustainable systems in various types of households. Their mission is to restore order and serenity to homes and home offices. To the Major Mom team, creating order does not mean being rigid or inflexible! Having order means that you have room in your space, your mind, and your calendar for the things that are most important. Major Mom wants families to experience the joy of living and working in organized and beautifully arranged environments. They use their proven systems and processes to make each client's goals become a reality, and most importantly, they make getting organized fun!
Be the most recognized and respected organizing firm nationally and internationally by creating rewarding careers and beautiful yet functional home and office environments for moms and their families.
Restore order and serenity to our client's home and office so that they will experience the joy of living and working in organized and beautifully arranged environments.
Each client is treated as an individual with unique needs, values and goals. Our solutions are customized, achievable and sustainable.
Order: We live an orderly life, resulting in comfort, joy, peace and harmony.


Spirituality: We serve God, families and others. We believe that less is more and that living orderly frees you to connect to your higher purpose.


Family: We believe in a strong family foundation and focus on loving and appreciating our families.


Integrity: There is no other way to be than trustworthy with high integrity and ethics. Our strong Christian values help us make decisions that are pleasing to God and others.


Community: 10% of our profits will be donated to Major Mom Foundation, setup by our founders to build Christian Academies for orphans and neglected/abused children.


Service: We live to serve families by freeing them from the bondage of their stuff. Each client will be treated as an individual with unique needs, values and goals and they are given impeccable service every time.


Results: We are focused on results for our clients and our company. Our clients will experience the results we promise them. Our company will produce the business results we have set forth to accomplish.
If you live in a cluttered home or work from a disorganized home office, your mind is distracted from the important things in life:


Spending Quality Time with Your Family


Taking Care of Yourself


Managing Yor Money


Growing Your Business
The Major Mom Liberators are on a mission to bring order to the world one household at a time.